"Excellence is never an accident. It is always the result of high intention, sincere effort, and intelligent execution."
I'd love to adjust my thick rimmed spectacles and say I found this Aristotle quotes in one of his essays. But unfortunately I found it while scrolling on instagram. So it might not even be an Aristotle quote. Sponge Bob Squarepants probably said it.
But no matter, because it's true.
Any successful project I've been involved in has always begun with a client who had high intentions for the outcome. A client once told me that they wanted a poster to be so great that when it was hung in a pub, people would lift it and take it home with them – I immediately understood his expectations.
This became a great way for us to judge the work – Would we yoink it off a pub wall at closing time? We kept going until the answer was yes.
So when we met the Core Sponsorship and An Post team to discuss the sponsorship of The Irish Book Awards, they gave us all the grown up KPIs and expectations. Then they put it more plainly and told us they really wanted to do something special and we had permission to blow the doors off it. A smile crept across my face as I knew we had the first ingredient for success – a client with high intention.
Next came the sincere effort and intelligent execution. Working in a tight-knit inter-agency approach with Core Sponsorship and Starcom, we delivered Readers Wanted into the world. We got on so well, we even agreed to write 10" films as part of the campaign. This shared ambition and teamwork led to us picking up the Grand Prix award at the 2020 European Sponsorship Awards.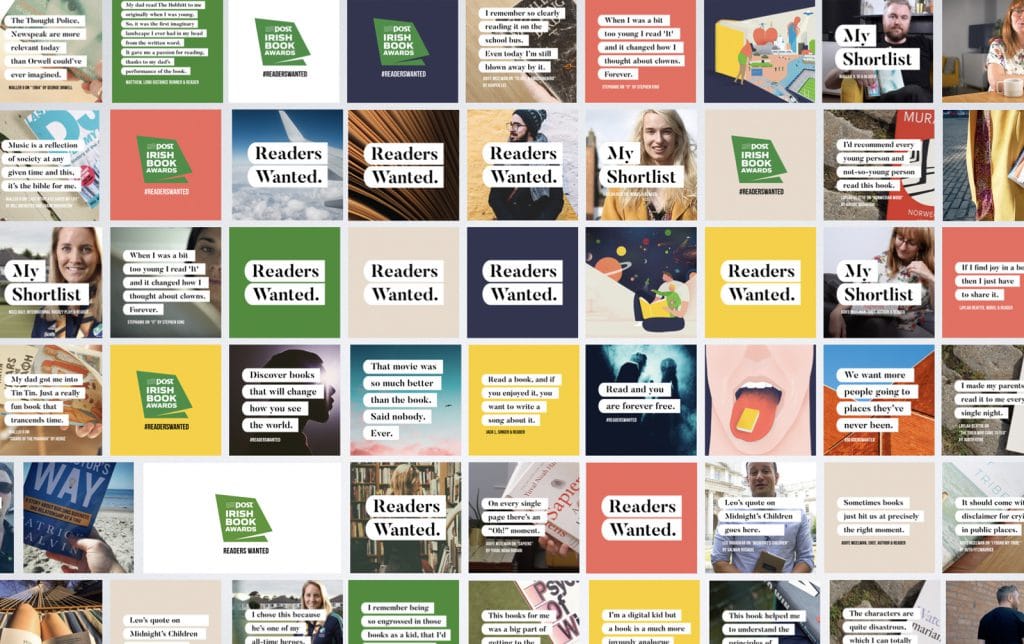 In the past we've picked up ESA awards for GAA, Rugby and now Books, hopefully proving SpongeBob's lesser known assertion that "excellence in sponsorship is never an accident."