It took a long time to distill the Munster magic into six words – we rise by lifting each other. Because once you ask people the question "what is Munster all about?" you had better put the kettle on. Magic, as it turns out is a pretty hard thing to describe.
Eric Cantona in trying to describe what was so special about his time at Manchester United once said,
"Because of the relationship with everybody, I felt like it was a great family. Even the players who were dead, I felt this presence somewhere. Everybody had each other. I never felt any kind of jealousy between generations. The emotion came from the things we won but also from the relationships I had with different people. I remember Norman the kit man. The woman at reception. The fans. It was like the time I spent with my family when I was a child. With my grandparents. With my father. My brothers and sisters and my mother. It was like a dream."
Given my long history with the people and the club (as a player and then Head of Commercial and Marketing) I should have known what was coming. But I was determined to see Munster realise its destiny as a truly global brand. So, together with Ringers we set out creating and implementing a 3-year strategic plan for the organisation.
We dived into what people both inside and outside of the organisation thought. Interviewing players, coaches, writers, fans, volunteers, opponents – those who loved us and those who most certainly did not.
We discovered a brand that is revered worldwide and loved locally. But was guilty of hiding its light under a bushel somewhat.
Our job was to take the small magic that happens every day, the very soul of the club and shout about it on a global stage.
The problem? Sound people don't run around telling people they're sound. There was a fear that writing down what makes this place special would kill the magic. But in true Munster fashion, everyone from the Commercial Board to the supporter groups gritted their teeth and together we built a North Star for the brand.
One that would align the entire organisation. That would provide a platform for sponsors to invest. That would transmit Munster's meaning to a worldwide audience.
'We Rise By Lifting Each Other' answered both a human need and a global one. On the pitch and off it. In the stands. In the streets. In the dressing room. In people's homes all around the world. It made decency currency.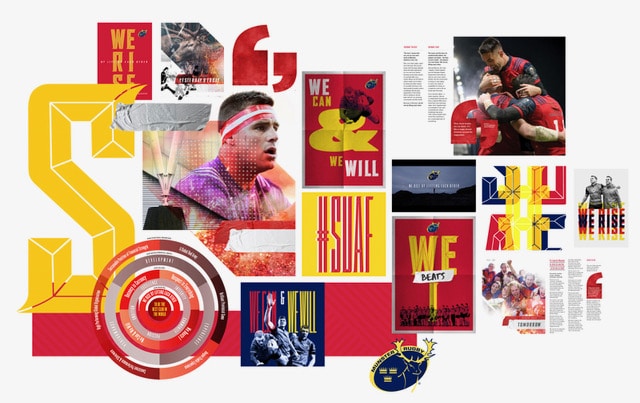 It resulted in real and tangible commercial impact for the club and an All Ireland Marketing Award for the brand. I loved the rigour and clarity of the process and it has led me to continue working with Ringers – and eventually become a Ringer myself. Working hard to help organisations realise their potential.
Since moving back to New Zealand we've continued to help many brands achieve this including The Blues (Auckland Super Rugby team) and the premium convenience food brand, Tomorrow's Meals. Different brands with different sets of challenges. But each project was underpinned by a commitment to understanding the issues, developing a strategy to solve the problem and then executing the solutions to a world class standard.
Delivering results. And quite often, magic.