Before Brooklyn became a global brand, before the branded snap backs and hipster haircuts, it was pretty much a working class area. A place with hard working people and a sense of fairness at its heart.
When the summer days got too hot, dad's firetruck would pull up and out would come a sprinkler cap for the hydrant eliciting squeals of delight from all the kids on the block.
For the past 15 years, Ireland has become my home from home. Brooklyn will always be my heart, but the Irishness is slowly seeping into my bones. I've swapped "guurrrrl" for … well I haven't really stopped saying that to be honest. But since I've lived here, Ireland has opened its arms to me though in many ways, yet I'm still somewhat of an outsider.
I'm totally fine with that.
Having outsiders who can stand back and look at our society objectively is precisely what Ireland needs right now.
And there are lots of areas that could do with a hard Brooklyn eye. None greater than Ireland's relationship with insurance. You'd be hard pressed to find another sector that serves its customers any worse than the Irish insurance market. It's unbelievable.
The game feels rigged with all the major players going through the motions. And Ireland is so weary, seems resigned to being on the losing end.
So when we got a chance to work with Paul Walsh and the Cuna Mutual Group on turning the Irish insurance industry on its head, we were all in.
The Cuna Mutual Group have been providing financial services to Credit Unions worldwide since 1935, operating in Ireland since 1963. Operating as a mutual insurance company, all their profits are either ploughed back into the company or rebated to policyholders. It's a model with its members at its very heart and couldn't be further away from the current Irish insurance model.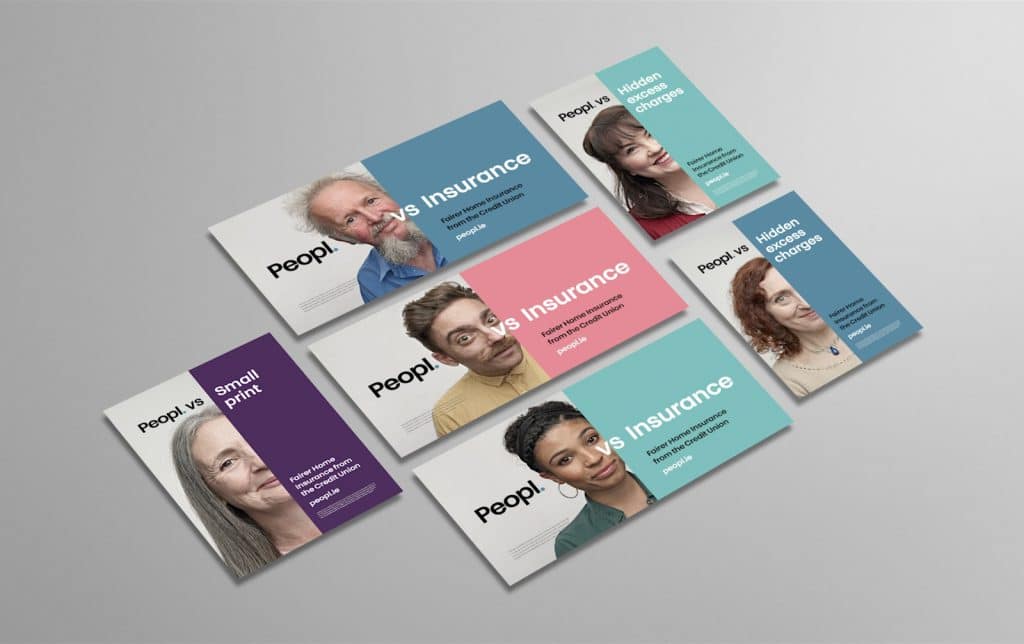 Their members, the much loved local Irish Credit Unions tasked them with creating a consumer facing brand to take on big insurance. Not one that would become a key player in the market but one that would take on the entire sector itself. One that would challenge just what insurance means to Irish customers.
So working as part of a tight team, we set about creating a brand with fairness at its core. One with modernity and substance, technology and community. With a challenger's mindset and the ability to scale quickly into other markets.
Peopl. Insurance was born.
The fairest insurance from the fairest people. Giving Irish people something that big insurance has refused to for decades. Easy, simple and fair insurance from those you trust in your local high street Credit Union. A co-operative approach that ensures that profits go back into the community and its members.
We've been so used to getting ripped off that when you write it down, it sounds revolutionary. Almost crazy. Like it was dreamt up by a bunch of outsiders.