When Stephen Cluskey and Noelle Daly, founders of Mobility Mojo told us what size their target market was we were a little taken aback.
Three people. And 1 billion.
Three individuals that just so happen to own a huge portion of the hotels on planet earth today. And 1 billion people who have accessibility needs.
The three were all attending the Skift 2019 Global Conference in New York that Stephen was due to speak at. And having them all under one roof was an opportunity that Mobility Mojo simply couldn't miss.
The 1 billion were patiently waiting for the world to catch up with their needs.
So they called Ringers in and their brief to us was simple.
Make these three game-changing individuals cross the room to Stephen and Noelle and hand them their card. And change the lives of 1 billion people worldwide.
Because they knew that their vision, to open the world to everyone by making accessibility part of the mainstream tourism offering needed one thing above all else – scale.
Mobility Mojo's software allows hotels to audit, integrate and display their accessible features in a standardised way online so guests with access needs can make informed choices before booking.
But if they tried to roll this out this city by city, it would never work. Almost half of our 1 billion people worldwide don't travel because of accessibility concerns. It had to be done on a global level.
So we got to work.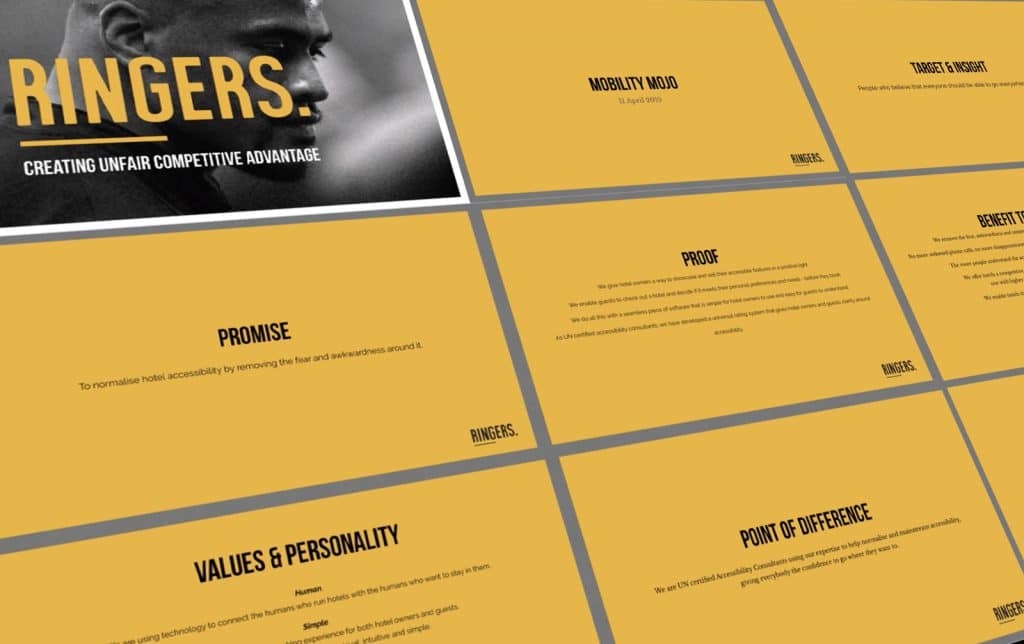 Creating a North Star and a shared language for this amazing brand. And a film to accompany Stephen's appearance on stage in New York. Voiced by the one and only Jeremy Irons.
Business cards were swapped. Contracts signed. And Mobility Mojo is well on its way to achieve what it set out to do – to open the world to everyone.